IT Management How-To
Get into shape for tomorrow
---
Get an Alert
when The Register has something new about ...

Check the boxes & select Email or Atom/RSS Feed.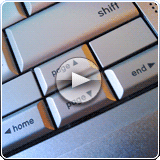 IT investment has trundled along reasonably well in most organisations for the last decade or so. It just so happens that a lot of it happened without much in the way of discussion across disciplines and the like. What we're left with is a series of discrete silos. On the systems management side of the house, well, we've got a similar picture. Lots of specific goodness, but lots of fragmentation of effort and lack of joined up activity to boot.
In most cases it's been somewhat unavoidable. No finger pointing required, and actually, when we've spoken to the Reg readers about all this in the past, we're all pretty much agreed that by and large, things from an IT management point of view are OK but, they could be better.
The time to make things better is upon us. New technologies and sourcing options are emerging and the expectations of the business and the user groups IT serves are only getting tougher to meet. In order to create the best possible environment to deliver against these heightened expectations, IT needs to take a look at itself and make a few adjustments.
So where to start? Well, you could do worse than tune in to this webcast...
In this live broadcast we'll discuss practical steps to help your IT department get into shape to tackle the next wave of IT management priorities. We'll explain how 'process' can be your friend – to help simplify things, set priorities and identify where to focus your attention and effort.
Tim Phillips will be your host, joined by Martin Atherton from Freeform Dynamics and and Microsoft Operations Consultant Naresh Kohli . The three of them will be running through what it takes to get into position to make the right changes to the IT management environment in your organisation. Between them they'll cover a range of topics including:
Most IT departments have a pretty good handle on 'where everything's heading', but don't always have the scope and freedom to achieve it. So how can we help reduce the noise and let IT focus on what's really important?
Whatever you call all this 'service' stuff internally, business and user expectations are heightened and IT is under scrutiny to deliver a seamless 'experience' that lets people do their jobs and doesn't fall over. This boils down to IT understanding what it offers, and making sure the business does to.
What actions need to be taken to make sure IT can deliver against priorities? A set of common areas crop up time and again. The cool thing is that experience shows it's NOT about having to find yet more cash to fund new investment.
Top tips for successfully moving to the higher ground: Many may quiver at the mention of 'process' but we'll highlight how a very simple one can make the difference between floundering around and making the right improvements. Oh, and getting some exec buy-in. Don't even bother without it.
Tempted? We thought so. Click below to watch!
It's like free consulting from the comfort of your desk. Well almost.